A Familiar Fantasy World
In this episode of Lyfeblerd we raise a party, go questing and navigate the new reality that is Elder Tales. That's right, I'm talking about Log Horizon, light novel series written by Mamare Toumo and illustrated by Hara Kazuhiro. It's an isekai science fiction fantasy about gamers that get stuck in a virtual world.
Sword Art Online may come to mind for those that are familiar with the fantasy subgenre, while long-time fans will be thinking .hack instead. However, Log Horizon manages to stand on its own two feet in a space that's very predictable. Where SAO is mostly about action and romance, Log Horizon remains focused on survival in a strange world and the political intrigues that arise, giving it a unique take.
SAO also involves survival, especially the first arc and season of the anime, but in the case of Log Horizon the characters continue to learn about their new existence. It also delves into deeper themes like cultural appropriation, free will and alienation.
It was first published as a web novel in 2010 but became a light novel in 2011 after Enterbrain acquired the platform it was on. Since then the series has sold 11 volumes with four manga spinoffs and an anime adaptation with three seasons.
Thirty Thousand Japanese Gamers
Log Horizon is the story of a gamer named Shiroe who is trapped in his favourite MMORPG called Elder Tales, along with millions of other players. The veteran gamer Shiroe gathers a merry band of friends as they try to survive and discover the mystery behind what they have come to call the catastrophe.
Set in the world of Theldesia, the players known as adventurers must learn to coexist with the People of the Land. They're the original inhabitants of the world and in gaming terms, non-playable characters or NPCs. Theldesia is split into fourteen regions, all public servers except one beta server. These regions consist of adventurer cities, fields, dungeons and NPC settlements.
There are a total of twelve main classes that determine an adventurer's skills. These classes are further broken down into four categories; Warrior, Weapon Attack, Recovery and Magic Attack. There are over 50 subclasses that allow adventurers to further customise their characters.
Shiroe is quickly able to realise the cold hard reality of their situation and is joined early on by his close friend, the Guardian Naotsugu and the Assassin Akatsuki. They make more companions as the story progresses. Each character possesses superhuman abilities that allow them to battle a menagerie of ravenous monsters and sinister beings.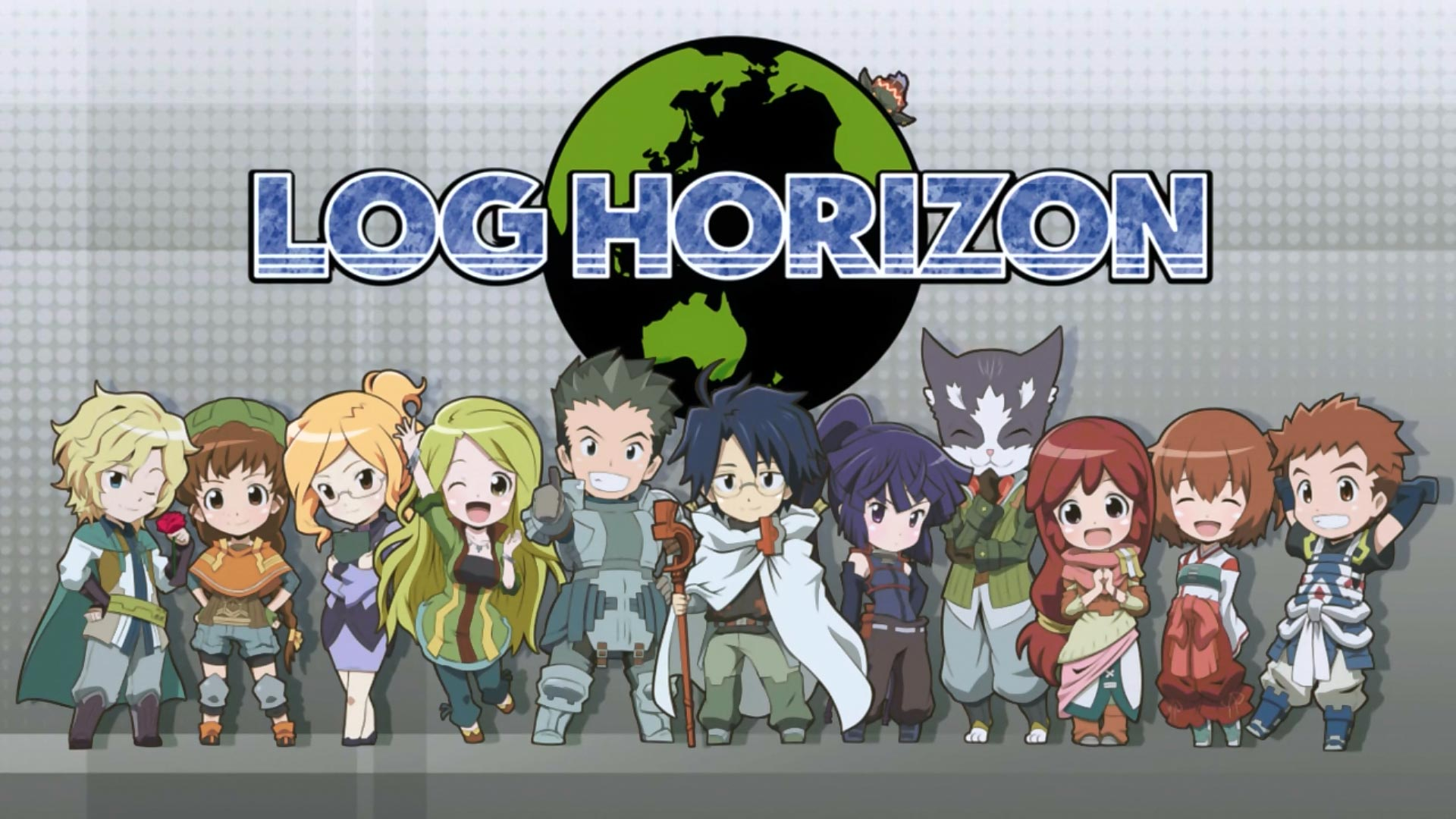 Horizon Filled with Ups and Downs
Strengths
Log Horizon contains several MMO tropes and concepts. I particularly love how each chapter begins with a character sheet that shows off stats, equipment and adventurer model. People I've introduced to the show have gone on to try their hand at MMORPGs, which was all part of my master plan.
Some of the characters in the series were developed thanks to fan recommendations, and they've gone on to gain popularity in international polls too. I won't spoil it for you by mentioning any of these additions but you will know them when you see them. You should pay particular attention to former members of the Debauchery Tea Party.
The world of Theldesia is modelled after our own, with Mamare scaling it by half the size of the real world. Adventurer Cities and other places are named after real world locations, adding a touch of familiarity. This gives me the sense of a post-apocalyptic world with a post-modern society and technology.
Mamare went to great lengths creating the world by fleshing out popular concepts, explaining many tropes and providing insight where we as players would normally just gloss over. For example, the class system, flavorless food and the different servers.
Weaknesses
Has Log Horizon been cancelled? No, but both novels are currently on hiatus and have been for years. Also, the light novel is lagging three volumes behind it's online counterpart with no solid idea when the gap will be bridged. All the mangas have either ended or are on hiatus as well, leaving us all in the dark.
This isn't a problem with the light novel but I still feel it needs to be mentioned. Season one of the anime covered the first five volumes of the novel, with the second season maintaining the same pace, adapting the content from the next five volumes. However, the third season of Log Horizon was different, adapting content from the web novel series instead.
Did I mention it's been on hiatus for years?
The Inability to Move on
I came across Log Horizon when it first aired on Crunchyroll and couldn't get enough. Apart from being a fan of the .hack games and a selective fan of SAO, I'm also really into MMORPGs like Final Fantasy XIV, Star Wars: The Old Republic, Eve Online, Lost Ark, Phantasy Star Online and Neverwinter. FFXIV is one that I continue to play in short bursts every year, despite the little time I have for gaming these days.
It's for this reason that Log Horizon struck a cord with me. The anime and manga seemed to capture the experience marvellously. I get goosebumps whenever the characters in the story go through situations that are quite similar to mine, like dealing with player killers in Eve Online or playing the market in FFXIV. Log Horizon feels very authentic without gratuitous violence or nudity.
The light novel's attention to detail is something gamers especially can relate to and was the main reason I became a fan. I've read stories that are better written and watched anime with better production value, but Log Horizon takes a subject matter that I cherish and has translated it into a work of prose that many gamers can relate to.
Log Horizon may not be complete or for everyone but I highly recommend it to the MMORPG fan and those interested in isekai. The chapters read like you are going on an adventure too and it's a joy following your favourite character as they rise from humble beginning to hardened veteran amidst all the chaos in the land.
Despite not knowing whether the story will ever come to a conclusion, I would recommend Log Horizon and its 11 volumes any day.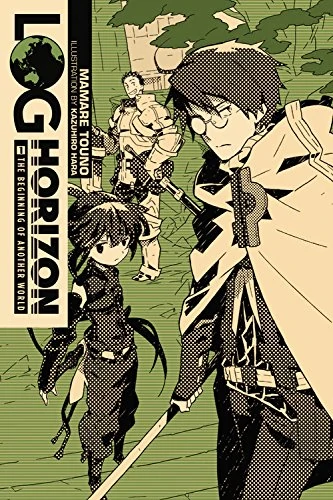 Reading List
For fans of Log Horizon, new and old, I suggest you pick up the spinoff manga. They're all written by Mamare Toumo.
Log Horizon, Illustrated by Hara Kazuhiro – https://amzn.to/3URJAdu
Log Horizon: West Wind Brigade, illustrated by Koyuki (about West Wind Brigade) – https://amzn.to/3tDLkuM
Log Horizon: Nyanta's Fortune Recipes, illustrated by Souchuu (slice-of-life) –
Honey Moon Logs, illustrated by Motoya Matsu (about Crescent Moon Alliance)
Non-fans interested in a darker maturer isekai with an MMORPG theme can try this one instead.
Disclaimer: Some of the links provided above are affiliate links, meaning I will earn a small commission when you purchase through them at no additional cost to you. As an Amazon Associate, I earn from qualifying purchases.
Logged Out
Thanks for joining me on yet another adventure into my favourite light novels. It's always a blast and I hope you look forward to the next episode. Don't forget to leave a review on iTunes or Podchaser. See you in the next one.
Cryptte logged out.